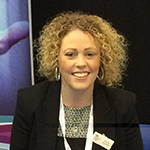 Emma Richards
After studying for a HND in Marketing at the University of Wales, Emma joined the Patent Office in 1998.
Her life in the IPO began in Facilities Management before moving to Training and Development, two departments that she throughly enjoyed but still wanted to learn about the core areas. The Information Centre provided the knowledge that Emma needed to progress to her current role as Business Outreach Manager where she been for the past 10 years delivering IP advice to SMEs all over the UK.
The first episode of series 15 of Dragons' Den sees the introduction of two new Dragons.
When I became a mother I made a promise to myself not to 'let myself go'. To try and keep in touch with fashion, remain well groomed and not turn up to the school gates minus make-up.