We've reached the last episode of series 12. It's hard to believe but Dragon's Den has been around since 2005. One of the first ever entrepreneurs to secure a deal back in series one has been in the headlines this week. Paul Thomas secured a £75000 investment in the Den for land for a truffle farm. He has been waiting for nearly a decade, but last week the first truffle cultivated from British soil was harvested. Well done Paul!
Best foot forward
Nurse Neomi Bennett's pitch to the Dragons struck a chord with me. Her years of experience helping patients to get their anti embolism stockings on was the inspiration for her invention. Neoslip is a device to help patients slip the tight fitting stockings on to their legs more easily. With 25,000 people in the UK dying from preventable Deep Vein Thrombosis each year the product creates a simple and important solution. Neomi believes Neoslip will make the stockings easier to put on and encourage more people to use them.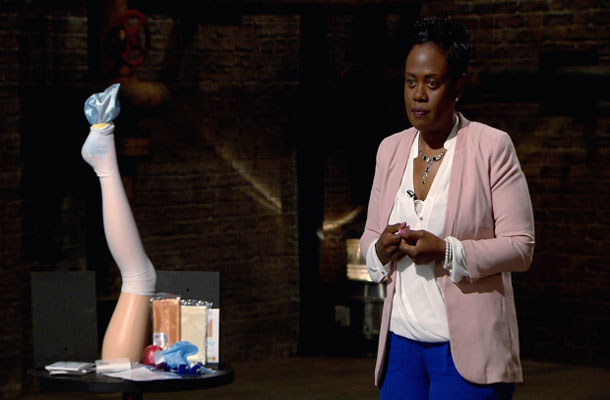 The Dragons were equally impressed and my ears pricked up further when Neomi mentioned her pending patent. Louise spoke at length about patents and how to protect inventions in her episode 10 blog. Deborah Meaden took a close look at Neomi's patent application. She was keen to understand the kind of protection she was getting. Unfortunately for Neomi, Deborah wasn't sure how easily the simple invention could be protected:
I think you have done something amazing, it's brilliant, but I think you won't make any money out of it because there are so many ways of doing it.
Patent applications are technical and can be difficult to get right. Neomi had taken the right steps when applying for hers by using a patent attorney. The chances of getting a patent granted increase significantly if you use an attorney. They can ensure that they get you the best possible patents. They will use their experience and expertise to ensure that the scope of a claim isn't too narrow to be worthless, or too broad to be open to dispute. They should ensure that there are no loopholes in your patent that would enable a competitor to take the benefit of your invention whilst working around your patent.
In spite of her good forward planning and using a patent attorney the Dragons weren't convinced. Neomi slipped out of the Den with no investment this time.
A taste of success
Branding is a term we have heard countless times in the Den from the Dragons and entrepreneurs alike and tonight was no exception. As we have discussed before, having a strong brand is an important asset for any business. With the right protection it can also help a business grow.
Ross Gourlay gave the final pitch of the episode to the Dragons and he was no stranger to the power of a strong brand. He was pitching his new energy drink and trying to break into this difficult market. He was keen to explain to the Dragons how he intended to compete with and differentiate his product from the well established brands in the market already:
The market is led by some major brands who would be our competition...we think we've created some significant points of difference. Our name Nae Danger is quirky and always generates conversation.
By registering Nae Danger as a trade mark, Ross has realised that his company name and logo are two of the most important assets he owns. Protecting them will give him many benefits and options for the future. One of the most important things is to safeguard the name and increase his reputation among customers, a vital element to making any successful business grow.
Peter Jones definitely agreed and offered to invest half the money he was looking for. Duncan Banatyne, who appeared in the Den for the last time this evening, took the opportunity to make one last investment in the den agreeing to match Peter. Ross certainly didn't need to drink a can of Nae Danger to perk him up as he exited the den.
We have reached the end of another exciting series and we are sad to see Duncan leave the show. There has, as always, been lots of interesting intellectual property to write about.  While you are waiting for us to return you can follow us on Twitter and Facebook  for the latest IP news and developments. You can also check out our range of free online tools for business and test your IP knowledge.
Keep in touch. Sign up to email updates from this blog, or follow us on Twitter.