It's hard to believe that we have already reached the penultimate episode of this series with the Dragons. This week I will be focusing on licensing, protecting your IP internationally and patents.
Licensing
A common theme which came up for a number of the entrepreneurs facing the Dragons in tonight's episode was licensing.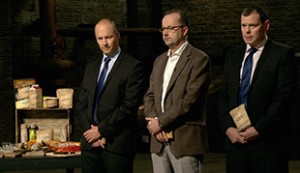 Jim Campbell, Reuben Maltby & Simon Hasslacher were looking for a £150k investment for a 13% stake in their luxury hot chocolate business Ozindas.
The licensing agreement between the trio and the Columbian suppliers of the chocolate they were using in their product came under close examination. The Dragons quickly identified areas where they felt the company might be in breach of contract.
Piers Linney summed up the Dragon's feelings:
If you create a market that isn't watertight, somebody else could think that's a good idea, they go to Columbia, pick up the same stuff, put a different brand on, throw some more marketing cash at it...unless that (contract) is watertight they can do it
Later in the episode when the Dragons met Patrick Gavin and Chris Bibby, the issue of licensing came up again.
The pair were hoping to impress the Dragons with their business Blooming Simple® which produces greetings cards which can be folded into vases for giving flowers as a gift. Peter Jones thought the 'card vase' was a neat idea but felt that they had marketed their idea in the wrong way. His advice was to license the product to companies like Interflora® to use them as a temporary vase which flowers arrive to customers in, instead of selling them flat packed to supermarkets.
If they decide to follow Peter's advice and think about licensing their product, our health check and accompanying booklet Licensing Intellectual Property   provides an overview of IP licensing and contains a checklist of useful points to consider when preparing for IP licensing negotiations.
International IP
If you are interested in taking your business overseas it is important to protect your IP abroad. When doing this you usually need to apply in each country you want protection in, although this is not always necessary as in some countries there will be unregistered rights and copyright is international.
Despite Peter Jones' reservations about how the product had been marketed, the entrepreneurs from Blooming Simple® had already had some success selling their product in the US.  The couple used distributors in the US to help them get their product into supermarkets like Wal-Mart®. When using distributors abroad, as they have, it is important to ensure confidentiality, non-competition and manufacturing limitations in your contacts. Putting non-disclosure agreements in place will help protect the sensitive details.
Patents
Jordan Daykin was the last entrepreneur to face the Dragons in an episode which had so far seen no investments from the Dragons. The 18 year old inventor was looking for an £80k investment for a 20% share in his company Grip It Fixings.
Jordan immediately impressed the Dragon's with his confident pitch and his invention for solving the problem of screwing things securely to plasterboard. I was equally impressed by the steps he had taken to protect his invention with a granted patent  in the UK and a patent pending in the US.
Applying for a patent can be a complex and costly process so it is advisable to seek legal advice before applying. A patent attorney will ensure you are on the right path for your innovation and will help draft your application to give you the best protection and commercial value from your work. Reading 'Do I need a patent' will help you decide if a patent is right for your invention; the process by which the Intellectual Property Office grants patents; and how to enforce your patent.
Jordan's invention impressed Deborah Meaden enough to make the first offer of investment of the episode and he secured the full £80k from her for a 25% stake in his business.
Using the IPO online services
Congratulations to all the entrepreneurs who faced the Dragons this week, especially to Grip it Fixings for securing an investment. Don't forget to join us next week for another IP filled blog. If you can't wait until then, our business pages are packed with useful IP advice and tools!
If you have questions or feedback, do comment on this blogpost and we'll do our best to respond.
Keep in touch. Sign up to email updates from this blog, or follow us on Twitter.