Welcome to the fourth instalment of our Dragons' Den blog, packed with useful IP information and advice. This week I'll be discussing brands, patents, designs and trade secrets.
On your bike
First into the Den were husband and wife, Richard and Lynne Bye. The couple were hoping to secure an £80k investment for a 10% stake in their business, Fat Lad at the Back®. Their business sells a range of cycling clothing designed to fit the fuller figure.
Although the Dragons understood the thinking behind the product, they thought the brand name may be off-putting to buyers. Duncan said: "The initial concept is great, I just think the descriptive title or brand is wrong".
Choosing the right name is an important part of building a successful brand as it is often what distinguishes your goods or services from your competitors. Richard and Lynne have made the first steps to building their brand by protecting it with a registered trade mark (UK00003012145).
The benefits of trade mark registration prevent others from trading with the same or similar name and against counterfeiters using your mark. It can't prevent others from copying your product, an issue which was shrewdly raised by Piers.
Nevertheless, none of the Dragons seemed eager to get in the saddle with the couple and they left the Den empty handed.
Stuck on the idea
Next to face the Dragons was Tracy Baker, looking for £60k in return for 25% of her company, Nano Tech Laboratories.
Tracy has secured an exclusive distribution licence to sell a range of nano-technology products called UM!Brands in the UK and Europe. Household items such as hooks, mirrors and note pads can be stuck to any surface using millions of tiny suction cups known as nano-suction.
The Dragons were quick to quiz Tracy on the terms of her licence. When Deborah discovered that the product owner can terminate the agreement at any time, Kelly asked Tracy: "Don't you wish you had invented this?"
As the owner of a patent there are a number of benefits, including the right to:
take legal action against people using your invention without your permission
sell the invention and all the IP rights
license the invention to someone else but retain all the IP rights
discuss the invention with others
Uncomfortable with the agreement Tracy has in place, Peter, Kelly and Piers opted out, leaving Deborah and Duncan to make an offer. Both Dragons offered the full amount but wanted a higher share of the business. Eventually Tracy shook hands with Duncan for 35%.
Teenage kicks
David Robson and Philip Law entered the Den asking for £60k for a 25% share of their business Ukick®. They were hoping to become the next craze with their 'keepy uppy' toy, a shuttlecock type device with coloured feathers and adjustable weights which alter the reaction time.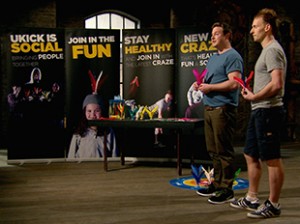 David and Philip are on the right track to starting a new craze by protecting their product with a registered trade mark (UK00002639949). However, there may be other ways in which they can protect their invention.
You can't patent a way of performing a mental act, such as playing a game or doing business, but you may be able to patent the game itself.
Although the Dragons saw potential in the product, unfortunately the profit margin wasn't big enough for them to invest, so all Dragons opted out.
Sweet deal
Last to pitch their idea to the Dragons was Harriot Pleydell-Bouverie with her range of handmade, gourmet marshmallows. Harriot is looking for a £65k investment for 10% of her Mallow and Marsh® enterprise.
After sampling some of Harriot's sweet delights, Kelly noted that the consistency is more like nougat than that of a typical marshmallow.
Harriot could choose to keep her recipe a trade secret. Trade secrets are free, have no expiry date (providing you can keep a secret!) and unlike other forms of IP, are not released to the public. Consequently, they are used by some of the world's largest companies such as Coca Cola and Irn Bru to prevent competitors from copying their products. However, trade secrets are often difficult to keep and cannot prevent others from independently inventing the same thing.
After discussing figures, Harriot's pitch tickled the taste buds of Peter and Deborah who both made an offer in return for a larger percentage of the business. However, Harriot was unwilling to share her sweet treats with the Dragons and decided to go it alone.
Want to know more about IP?
If you would like more detail on any of the topics discussed in this blog, the IP Basics guides are free to download. This will help you understand the different IP rights.
If you have any questions or feedback, do comment on this blog post and we'll do our best to respond.
Keep in touch. Sign up to email updates from this blog, or follow us on Twitter.