It's only week 3 and we've already seen some interesting and innovative ideas presented to the Dragons in the Den. But what's next? Tonight I'll be looking at trade marks, registered designs and top tips for brand protection.
Property – a tough sell
Tom Harrington was first to pitch tonight with his online estate agency, WeSold.co.uk. The unique property selling website initially got the Dragons excited and Tom looked like he could close the deal on the £75k investment he wanted.
As the Dragons noted, it's difficult for Tom to protect his business model. This means it could be easy adopted by the leaders in the online property market. But there are ways in which he could protect the brand, to reduce the chances of copycat websites appearing under similar branding.
Having already secured the domain name, Tom could register both the company name and logo as trade marks, which:
may put people off using the trade mark without permission
makes it much easier to take legal action against anyone who uses the mark without permission
can be sold, franchised or licenced to others
Unable to sell his idea, Tom left the Den without investment as the 5 Dragons declared themselves out.
Tea for three
Next to brave the Dragons were tea-making duo Philip Perera and Omar Farag of The Teabox Company Limited. They were looking for £50k for 15% of their business.
Their clever vision and determination got the Dragons in quite a stir and 3 offers were made for the full amount but for higher equity levels.
The company have already registered their logo as a trade mark (UK00003041764) but, as Kelly Hoppen pointed out, the design of their packaging could be improved.
The packaging may automatically be protected by design right. For extra benefits they could look to protect it with a registered design, which:
protects the shape of a product, a two-dimensional surface pattern or graphic design
could stop people making, importing or exporting a product featuring the design
offers a longer period of protection
After brewing over their decision, Philip and Omar accepted Kelly Hoppen's offer of £50k for 25% equity (dropping to 20% on seeing a return) and happily walked out of the Den.
Since filming the show, The Teabox Company have withdrawn the trade mark application for their name after it was contested. They have now rebranded the company and applied for the name Phom instead. This proves just how important it is to get your name right from the start.
IP – a sticky subject
Akeem Ojuko showcased his flavoured peanut butter brand, The Wild Peanut, asking for £50k for a 20% share to help expand his start-up business.
Despite having carefully developed the brand, Akeem doesn't yet seem to have put the necessary precautions in place to protect it. Like Peter Jones said, the idea could be easily replicated, so a strong brand identity would be help stand out against competitors.
Here are my top three tips for building a successful brand:
1. Protect your company name
Owning a limited company (registered with Companies House) doesn't mean you can stop others using similar trading names. The only way to do this is to register your name as a trade mark.
2. Make sure you're not infringing someone else's trade mark
Carry out a trade mark search to see if anyone else has registered a similar name, logo or slogan before settling on yours, to help avoid future problems.
3. Be different
Make sure that you stand out from the crowd. A good trade mark is distinctive, can raise the profile of your brand and become sign of quality in your industry. Follow the rules for choosing a successful trade mark.
Coming to a sticky end, Akeem became another casualty of the Den and walked away empty handed.
Apple-tite for success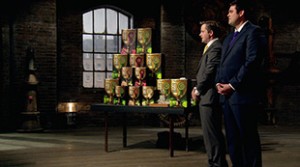 Home-brewers Ralph Broadbent and Alex Dixon were the final entrepreneurs welcomed into the Den tonight. They were asking for £40k in return for a 15% stake in Victor's Drinks, which allows buyers to make their own cider in just 10 days.
The duo have applied for a trade mark for the name Victor's Drinks (UK00003048892) which will help protect the company from others trying to trade under this name in the same or similar industry.
I'll confess I don't understand how the brewing process works, but if their methods were new and unique, they could have protected this with a patent.
To be able to apply for patent, the process must be:
new (not known anywhere in the world prior to filing)
have an inventive step (which is not obvious)
capable of having an industrial application
However, it is always advisable to contact a patent attorney or other IP professional for advice and guidance.
A last minute change of mind presented the duo with an opportunity to secure an investment and they left in the lift with £40k (and the expertise of Duncan Bannatyne) in return for a 25% share of the business.
Using the IPO online services
If you would like to find out more about any of the IP mentioned in this blog and the ways in which it might affect your business, the free to use, fully interactive, online tool IP Equip is a great place to start.
If you have questions or feedback, do comment on this blogpost and we'll do our best to respond.
Keep in touch. Sign up to email updates from this blog, or follow us on Twitter.