After last Sunday's spectacular start to the series, I've been eagerly waiting to see what brilliant businesses and fanciful frights would face the Dragon's tonight. This week, we look at protecting processes, building your brand and copyright protection.
Fast food – a franchise to go
Tej Randeva, with his Indian take away brand Spice 2 Go, entered the Den first. He was looking for a £75k investment in return for a 10% stake in his business.
Tej's plan was to create the 'Domino's Pizza of the curry world' by building a UK wide fast food franchise. Having already protected his brand name with a registered trade mark (UK00002631523), he seems to have made a good start with this venture.
In last week's blog, Clare looked at franchising. A successful franchise should be able to offer a complete package of branding, technical knowhow and secret information as part of the licence agreement.
But Deborah Meaden questioned whether the Spice 2 Go brand was strong enough to grow into a countrywide chain. Unfortunately for Tej, this meant that he walked away empty handed.
Don't make a dog's dinner of IP
Daniel Eha and Matt Cockroft were next into the den to ask the Dragon's for a 40K investments for 10% equity in their company, Pure Pet Food Ltd.
Having found that the 'Pure Naturally Dehydrated' logo has been registered as a trade mark (UK00002641566), I thought an interesting question came from Piers Linney. He asked the duo what protection they had against big brands copying their idea. Their answer? None – as it is just based on a simple idea. But even simple ideas can be protected by IP rights.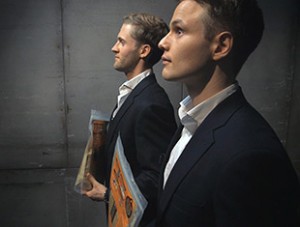 The obvious way to protect your idea is with a patent. If the method used by Daniel and Matt to dehydrate their dog food was a new technique, applying for a patent could stop competitors creating products using this method. The 'Do I need a patent?' booklet can help you learn more.
If your idea isn't patentable, another way could be to protect it as a trade secret. This doesn't stop anyone copying your idea but it can help deter copying if the process you use is hard to work out from the product itself.
As 3 Dragons backed out, Deborah Meaden and Kelly Hoppen stepped in with offers but for much higher equity than the pair were willing to part with. A hard decision followed, but their belief in the product led them to decline and leave the Den investment free.
A cereal entrepreneur
Jonathan Shimmin and Annie Morris of start up brand Spoon Cereals were looking for £50k in return for a 10% share in their business, which produces dry pack and on the go cereal.
As the company is only a few months old, they should already be thinking about protecting their IP before moving forward with the brand. A quick trade mark search shows that they have already registered the stylised name 'Spoons Cereals' (UK0003018483) and submitted an application to protect what appears to be a slogan.
Registering your trade mark gives a wide range of benefits for your brand, but there are also other ways in which you can protect it. These include:
registered designs which protect the overall look of a product
unregistered design rights which give automatic protection for the internal or external shape of a design
copyright which protects information on labels and packaging etc
Seeing the potential in the brand, both Deborah Meaden and Peter Jones offered Jonathan and Annie £50k in return for 30% of the business. Not wanting to miss out on the expertise of both Dragons, the duo proposed a deal and skipped out of the Den with half the investment from each.
A book of copyright
The final duo to face the Dragon's tonight were Asi Sharabi and David Cabji. They were seeking £100k for just 4% equity in their personalised children's book business, Lost My Name.
While the idea of the Lost My Name story cannot be protected, all the original artistic works (including text, illustrations and layout) in the books will be protected by copyright.
There's no registration system for copyright in the UK - as long as you are the creator of an original work you automatically have copyright protection. Copyright covers things like:
literary works
dramatic works
musical works
artistic works
layouts or typographical arrangements
sound and video recordings
sound and video broadcasts
The low equity on offer put off 4 Dragons, leaving just Piers Linney to try and negotiate a deal. His technology background proved too good an offer to refuse and they left the Den £100k and 1 Dragon richer.
Using the IPO online services
If you would like to find out more about any of the IP mentioned in this blog and the ways in which it might affect your business, the free to use, fully interactive, online tool IP Equip is a great place to start.
If you have questions or feedback, do comment on this blogpost and we'll do our best to respond.
Keep in touch. Sign up to email updates from this blog, or follow us on Twitter.