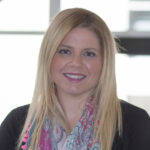 Kirsty Edwards
Kirsty joined the IPO in July 2012 as a Customer Advisor in the Information Centre. In 2013 Kirsty moved to the Business Outreach and Education department where she hosted many IP workshops and delivered presentations to businesses and schools.
She joined the Web Content Team as Website Manager in 2015, where published IPO content on GOV.UK and managed the IPO's blogs.
Kirsty is now the Senior External Communications Manager and manages the IPO's social media team and channels.
Wow – tonight's episode certainly packed a punch and brought us a variety of products and services.