Happy New Year! We're just 3 days into the brand new year and already back in the Den. It seems there's no rest for the wicked (or the Dragons)!
Have the New Year celebrations softened the bite of the Dragons? Or has it filled them with a refreshed determination to make the Den experience extra miserable for those who visit?
After tonight's episode, I'd say it's somewhere in between. With two deals made, there's still some Christmas spirit lingering. But the claws have been sharpened and they're not afraid to use them.
Liquid assets
The first entrepreneur out of the lift in 2016 was Caner Veli. He brought with him with his clothing protector spray that made everything liquid-proof. I've been guilty of dribbling my dinner and drinks down myself on many occasions, so this seemed right up my alley.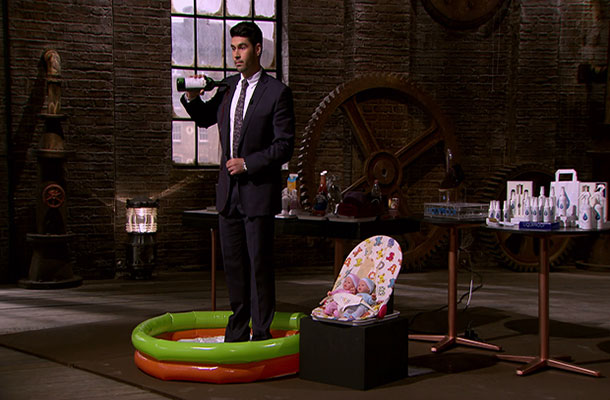 Caner was in the Den searching for a £100k investment from the Dragons for 5% equity in the brand, called Liquiproof. Following his spectacular pitch, he was given no time to breath as the questioning turned straight to his IP.
What patent do you have for this?
This was the question that was on all our minds. Luckily Touker Suleyman came straight out with it.
Owning a granted patent can allow you to:
make money from licensing the product
sell or transfer the product to someone else
enforce your rights against infringers
If Caner owned the patent for the liquid-proof formula, taking the product to market could be a lucrative business. He could exploit the product for all its worth, safe in the knowledge that the technology would be his alone for the life of his patent. That's an exciting thought.
The value of IP
Unfortunately, the excitement stopped there. More digging showed that Caner was just selling someone else's patented product under his own brand. His exclusive licensing agreement was just a self-written distribution agreement worth little more than a soggy piece of paper.
This caused unease among the investors as they questioned the valuation he'd made on the business. Intellectual Property (IP) is a valuable asset and could add a hefty sum to your balance sheet if valued correctly. The Dragons agreed that, as Caner doesn't own his most important business assets (the patent or the licensing deal), there was little value in the brand.
As Deborah Meaden explained:
There's 2 fatal errors you've made here. One is the contract. But secondly your valuation is off the scale…that agreement is the thing that will place the value on your business.
One by one, the Dragons backed out of the deal until just Touker remained. Despite the concerns raised, he saw potential in the brand and made a significant offer.
With his experience and influence in the fashion world, his aims to take the product to the masses came with two conditions. His lawyers would draw up new agreements with the patent owner to secure Liquiproof's future, plus they would become equal partners. All for the £100k Caner desperately wanted.
Dragon-proof paperwork
If you're considering applying for a patent or entering into an IP agreement, you should always seek legal advice. How you manage your IP could determine how successful your business can become. As Caner's Den experience proved, unless you have the right paperwork and protection in place, you could hit stormy waters before you set sail.
Patent and IP attorneys are experts in their field. They know how to put together applications and contracts to get you the right protection for your innovation.
The type of contracts you may need to draw up as part of your IP management plan include:
non-disclosure agreements
licensing agreements
franchise agreements
coexistence agreements
Help for your business
After such a grilling in the Den, the surprise offer was too good to be true. Caner shook on the deal, leaving with 50% of his business resting in Touker's hands.
If Caner's Den visit has inspired you to take a look at the IP your business owns, you should take a look at our IP for Business toolkit. It contains everything you need to start understanding, protecting and utilising your IP. It includes free online tools to help you identify your IP assets, as well as guidance on IP advisors and non-disclosure agreements.
Keep in touch. Sign up to email updates from this blog, or follow us on Twitter.